Awesome Real Estate Marketing Tools
Web Listings Pro has a great set of marketing tools with more being added each day.

Capture Viewers
Viewers can sign up for updates or more info on each site. Use the info to track down buyers or send updates about the property such as price reductions or open houses.

Schedule Open Houses
Schedule an Open House and notify any subscribers about the event. Additionally use the Open House Guest Book feature to get visitor information, then send follow up emails about the open house. No more manual entry of names and emails!
Learn more ->
Buyer Feedback System
Curious what potential buyers are sayings about your property? Send them requests for feedback. You can email each buyer or buyers agent with a link to fill out a simple online form. All feedback is aggregated and can be used to inform your owner about the opinions of potential buyers.
Learn more ->
Request Showings Online
Potential buyers can send requests for showings directly on each website. They simply fill out a form and submit the request. This is another easy way to capture great lead for your properties.

Print Friendly Property Fliers
Each template also includes a printer friendly version of the pertinent property details(in PDF or HTML format). The print outs look to fliers that you leave for visitors of your open houses. Save yourself some time if you want and use them yourself to give to perspective buyers.

Digital Guest Book
Create guest books for visitors to sign during viewings, then follow up with emails or calls.
Learn more ->
Want to get some feedback from property visitors or buyer agents? Just use the application to send them one of our built in questionnaires. All the responses will be aggregated for you to view. Curious about what buyers think of the listing price? No problem, you can find out from them. This is an excellent tool to get feedback about the property and what things can be done to help sell it faster.
The market is what ultimately determines the selling price of a property. Using the feedback system gives you more direct information on what the market is thinking and how they might behave. This information will give you an advantage when selling homes and more clients when you become known as someone that has the inside scoop on the local Real Estate market.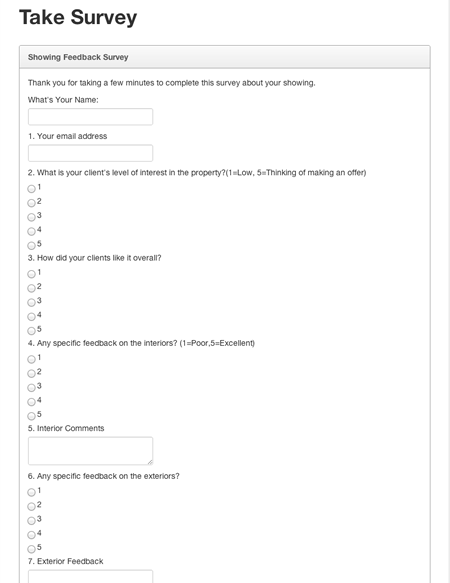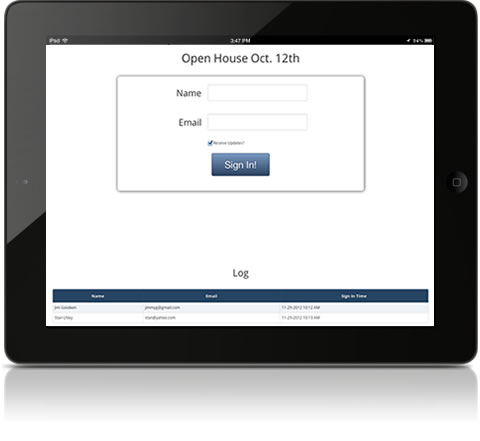 Instead of dealing with a pad and paper use your ipad, tablet, or laptop along with the admin software to make visitors sign in during open houses. The guest books syncs with your listing so you can communicate with visitors for feedback or leads after the open house. Spend your time getting leads not doing data entry with this great feature. Works offline too!
When you are having an open house just schedule it in the application. You can then notify any subscribers about the upcoming event.